Co-zyme is a unique blend of enzymes like Amylase, Cellulase, Protease,Pectinase, Cellulase, Xylanase, Lipase, Beta Glucanase, Alpha glucosidase and Mannanase. Cereals such as wheat, maize etc contain long, complex carbohydrate also known as non-starch polysaccharides (NSPs), for which animals like pigs and poultry do not produce the necessary digestive enzymes to hydrolyze. NSPs in cereals like wheat are called arabinoxylans, and those in barley are beta-glucans, such are recognised as anti-nutritional in behaviour. They increase the viscosity of food and put a pressure on the animal's own enzymes (digestive system). Addition of Co-Zyme which is a cocktail NSP enzyme, allows the breakdown of these anti-nutritional factors and enables fasterand more complete digestion ofthe feed, leading to improved nutritive value.
The poultry feed is a complex mixture of cellulose, plant fiber, grains, fatty matter, oil seeds and oil cakes. Poultry does not produce suitable enzymes required forthe digestion ofthese macromolecules.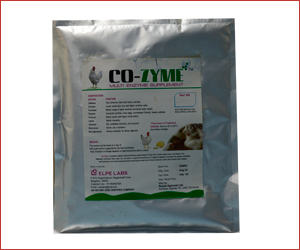 Primary function of all the enzymes in Co-Zyme are:
Cellulose is required for the digestion of cellulosic plant material.
Xylanase helps in digestion of plant fibers
Lipase is needed for efficient metabolism of oils and fats, which is a current trend in Indian feeds.
Phytase is required to make phosphorous available to the body.
Protease helps in getting optimum amino acids from feed.
Amylase is required to hydrolyse starchy material in the feed.
Pectinase helps in decomposition of dried plant material, fruits and fibers.
Beta glucanase helps in reducing the viscosity during digestion of NSP
Mannanase breaks down compounds known as mannans which serve as carbohydrate reserves.
COMPOSITION FUNCTIONALITY
| | | |
| --- | --- | --- |
| Enzyme | Subtrate | Function |
| Amylase | High Starch | Lower production cost and higher nutritive value |
| Pectinase | Pectins | Better usage of plant material and better body weight |
| Phytase | phytate' Phytic | acid Improved nutrition, clean eggs, environment friendly,lowers pollution |
| Protease | Proteins | Better grown and higher hatchability |
| Lipase | Oils/Fats/Lipids | Better immunity |
| Xylanase | NSPs | Bio-available nutrients, anti bacterial |
| Mannanase | Mannans | Better use 0 nutrients |
| Beta glucanase | Glucans | Reduce viscosity for better digestion |
Co-zyme is specially suited for improved energy performance of feed that contain wheat bran, soya beans, corn, rapeseed, sunflower seed, peas, etc., Coczyme is a special formulation as it supports digestion, increases the energy availability and hydrolyses non-starch polysaccharide resulting into reduction in feed conversion ration and increase body weights.
SPECIFICATIONS
Ph Optimum : 5.0-5.5
Temperature Optimum : 50-55°C
Co-Zyrne has an optimum pH of 5.0. However, it is very effective over a pH range of 3.0 to 8.0 and an optimum activity at a temperature of 50°C. However. is very effective over a temperature range between 40 to 60°C.
DOSAGE
The enzyme can be dosed at a rate of 100 to 2509 / Ton of feed.(Variation in dosage depends on feed formulation and its nature)
PACKING & STORAGE
Co-Zyme is available in standard 25kgs multi layer Kmft paper bags 8. should be stored under cool and dry conditions beiow 20°C